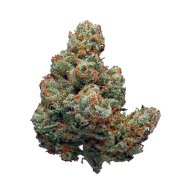 Alice In Wonderland
THC Content
Alice In Wonderland
CBD Content
Alice In Wonderland
Sativa content
Usage & Effects
Alice In Wonderland
Time of use
AFTERNOON
Alice In Wonderland
Typical Effects
FOCUSED
HAPPY
CREATIVE
Alice In Wonderland
Common Usage
NAUSEA
Alice in Wonderland is an 85% sativa dominant variety of cannabis that many find to be a great way to start their day or to get them through their afternoon. The average is about 18 to 22% in this potent pot. The smell has heavy notes of flowers and blueberries. The flavor profile matches the smell beautifully, making this a favorite strain with cannabis connoisseurs who love exquisite taste profiles. The buds are bright green and orange and appeared to be dipped in glitter because of the amount of trichome coverage. The buzz is a very uplifting euphoric one that leaves people happy and chattery. This is a great social weed. It said fat Alice in Wonderland will help melt away stress, depression, and anxiety.
FAQ
How much THC is in Alice In Wonderland strain?
Answer: This strain contains about 23% THC on average.