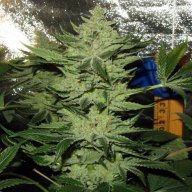 Alien Apparition
THC Content
Alien Apparition
CBD Content
Alien Apparition
Indica content
Usage & Effects
Alien Apparition
Time of use
EVENING
Alien Apparition
Typical Effects
HUNGRY
SOCIAL
CREATIVE
Alien Apparition
Common Usage
DEPRESSED
A LOSS OF APPETITE
MIGRAINES
Alien Apparition is a 70% Indica dominant variety of cannabis that might have you thinking you saw an alien if you smoke too much. This strong indica is known for sparking creativity in consumers as well as producing a very uplifting, euphoric, and energetic buzz for being an indica. Many people find this to be a great strain to promote creativity and to socialize with. It also causes major cases of the munchies, so make sure you got your favorite foods handy. If you suffer from migraine headaches, loss of appetite, stress, anxiety, or depression, like so many others, then maybe some Alien Apparition is exactly what you need. The flavor of Alien Apparition is said to tantalize your taste buds with hints of citrus and blueberry, followed by a sweet candy-like finish. If you're looking for a strong Indica strain of cannabis that has a divine flavor profile, you may want to try Alien Apparition.
FAQ
How much THC is in Alien Apparition strain?
Answer: This strain contains about 20% THC on average.