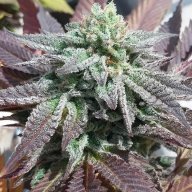 Alien Breath
Hybrid content
Usage & Effects
Alien Breath
Time of use
EVENING
Alien Breath
Typical Effects
RELAXED
SLEEPY
SOCIAL
Alien Breath
Common Usage
DEPRESSED
ANXIETY
INSOMNIA
Alien Breath is a 50/50 hybrid that has a bite. You can find a bit of both indica and sativa in this alien cannabis strain. Pogo and Berry Breath were both used in the creation of this unique strain known as Alien Breathe. THC in this impressive strain averages 18 to 22% or better. The buds of this particular variety of cannabis do not have any distinguishing characteristics. However, the flavor is unmistakable. A fruity skunky profile will leave you wanting hit after hit of this sweet cannabis. The buzz is an intense one that leaves you feeling very sleepy and sedated. Consumers report this being an excellent strain to fight off the symptoms of insomnia, stress, depression, anxiety, pain, and more. You might want to be careful with this one if you start your day with it as you might find your head floating around in outer space and not here on Earth where it needs to be.
FAQ
How much THC is in Alien Breath strain?
Answer: This strain contains about 0% THC on average.