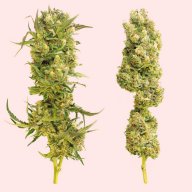 Alien Bubba
Indica content
Usage & Effects
Alien Bubba
Time of use
EVENING
Alien Bubba
Typical Effects
RELAXED
SLEEPY
CREATIVE
Alien Bubba
Common Usage
DEPRESSED
ANXIETY
INSOMNIA
Alien Bubba is a 70% Indica dominant variety of cannabis that consumers around the globe absolutely love. THC comes in at an average of 15% all the way up to 21%. Alien Bubba was created using genetics like Bubba Kush and Alien Kush. Now you can enjoy this beautiful combination, and all it has to offer like the amazing flavor profile of floral tones with a sweet-spicy finish. The trichome coverage on Alien Bubba is out of this world. This makes it an excellent strain of cannabis for making edibles, tinctures, capsules, and more. The buzz from Alien Bubba is a very creative and euphoric one. It is known to cause dry mouth and dry eyes, so it might be good to have water and Visine on hand. Also so be warned that you might get an out-of-this-world case of the munchies and giggles when blazing on a little Alien Bubba.
FAQ
How much THC is in Alien Bubba strain?
Answer: This strain contains about 21% THC on average.