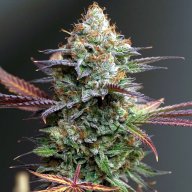 Alien Hallucination
THC Content
Alien Hallucination
CBD Content
Alien Hallucination
Hybrid content
Usage & Effects
Alien Hallucination
Time of use
EVENING
Alien Hallucination
Typical Effects
RELAXED
SOCIAL
HAPPY
Alien Hallucination
Common Usage
DEPRESSED
ARTHRITIS
INSOMNIA
Alien Hallucination is a hybrid variety of cannabis that was said to be created by crossing LSD with Tahoe Alien. The THC levels are impressive, averaging a hefty 24% or higher in this fire. The buds are fluorescent green with lumps of purple wrapped in orange hairs and a blanket of sparkling trichomes. The flavor profile from this smoke is very sweet and citrusy. This particular variety of hybrid cannabis tends to lean more on the Indica side, making it a better strain for the afternoon or nighttime. A couple of puffs of this stuff in the morning, and you might find yourself high on cloud nine or even worse with a case of couchlock. The buzz is described as a euphoric and relaxing one that provides consumers with an overall happy feeling. Alien Hallucination is reported to help fight off the symptoms of stress, anxiety, depression, chronic pain, and more.
FAQ
How much THC is in Alien Hallucination strain?
Answer: This strain contains about 24% THC on average.