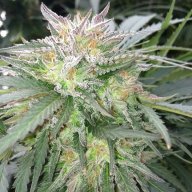 Alien Reunion
Hybrid content
Usage & Effects
Alien Reunion
Time of use
EVENING
Alien Reunion
Typical Effects
FOCUSED
RELAXED
HAPPY
Alien Reunion
Common Usage
A LOSS OF APPETITE
ARTHRITIS
MIGRAINES
Alien Reunion is a 50/50 hybrid strain of cannabis that brings together a family reunion of indica and sativa. This out of this world reunion is made possible by crossing Alien Dawg with Alien OG. This is a great any time of the day strain. It makes for a great wake and bake or an evening sesh. THC comes in at an impressive 24-28% on average, giving this strain of cannabis more than enough of the good stuff to get the job done than most people need. The buds are a forest green color wrapped in golden hairs dripping with resin from every pore. The flavor profile has the taste of citrus, cheese, and apples with a skunky finish. The buzz is often described as a very euphoric and energetic one that will ultimately lead to a happy, relaxed feeling. Some people report a very focused and creative buzz, and others report a very relaxing chill kind of buzz. Alien Reunion is a great strain to knock migraines out of the ballpark as well as help manage the symptoms of arthritis and chronic pain.
FAQ
How much THC is in Alien Reunion strain?
Answer: This strain contains about 28% THC on average.