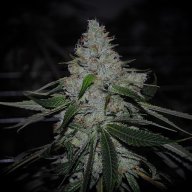 Alien Sour Apple
THC Content
Alien Sour Apple
CBD Content
Alien Sour Apple
Hybrid content
Usage & Effects
Alien Sour Apple
Time of use
EVENING
Alien Sour Apple
Typical Effects
FOCUSED
HAPPY
CREATIVE
Alien Sour Apple
Common Usage
DEPRESSED
A LOSS OF APPETITE
INSOMNIA
Alien Sour Apple is a 50/50 hybrid variety of cannabis, bringing both indica and sativa to the table. The only thing sour about this apple is the slight remanence of a Sour Diesel-like flavor. Cannabis strains from Brazil and Africa were utilized in the creation of this flavor variety of herb. THC impresses the best, averaging 25% or higher. The buds are beautiful neon green colored with a snowy white blanket of trichomes. They carry the aroma of flowers and apples and a taste that matches with an earthy berry finish. The buzz is a very focused one that will leave you happy and creative. Many consumers find this to be a great strain to help increase their appetite as well as fight off anxiety, depression, stress, and many people report it working fantastic at helping to fight insomnia.
FAQ
How much THC is in Alien Sour Apple strain?
Answer: This strain contains about 28% THC on average.