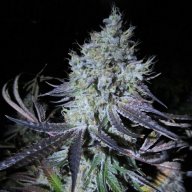 Aliens on Moonshine
THC Content
Aliens on Moonshine
CBD Content
Aliens on Moonshine
Indica content
Usage & Effects
Aliens on Moonshine
Time of use
EVENING
Aliens on Moonshine
Typical Effects
RELAXED
SLEEPY
SOCIAL
Aliens on Moonshine
Common Usage
ANXIETY
MIGRAINES
PAIN
Aliens of Moonshine is an 80% Indica dominant variety of cannabis that found its birthplace in Sin City Las Vegas. It's said that White Moonshine was crossed with Sour Alien to reach this flavorful bud. THC levels don't come in extremely high and only average in the single digits between 5 to 9%. However, this strain is extremely rich in CBD. You can expect 10% or higher when it comes to CBD percentage in Aliens of Moonshine. The buzz is described as a very relaxing one that leaves consumers feeling focused and social. It's said this is a great strain to fight off migraine headaches, chronic pain, anxiety, depression, stress, and other types of mood disorders. The smell is a strong, pungent one that has a touch of musk and pine. The flavor is very unique. Many people describe it as having a slight taste of chemicals with a sweet finish.
FAQ
How much THC is in Aliens on Moonshine strain?
Answer: This strain contains about 9% THC on average.