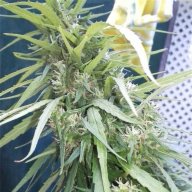 Usage & Effects
Aloha
Time of use
MORNING
Aloha
Typical Effects
FOCUSED
RELAXED
CREATIVE
Aloha
Common Usage
DEPRESSED
ANXIETY
MIGRAINES
Aloha is a 100% sativa dominant cannabis strain. This sweet sativa makes for a perfect wake and bake morning sesh to get your day started. THC comes in at an average of 15% and is known to come in as high as 24%. Aloha produces tight buds that have a yellowish-green tint to them. They are wrapped in ruby red pistols and a blanket of frosty trichomes. Aloha has many of the same characteristics as Haze. The smoke is described as very citrus-like and sweet. The buzz is a very relaxed one that leaves consumers feeling focused and creative. Many people say this is a great social strain. It's also reported to help fight the symptoms of depression, stress, anxiety, migraine headaches, and more.
FAQ
How much THC is in Aloha strain?
Answer: This strain contains about 24% THC on average.