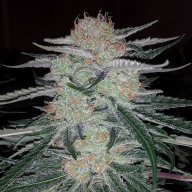 Usage & Effects
Alpha Cow
Time of use
EVENING
Alpha Cow
Typical Effects
FOCUSED
HAPPY
CREATIVE
Alpha Cow
Common Usage
DEPRESSED
ANXIETY
INSOMNIA
Alpha Cow is a 90% sativa dominant variety of cannabis. Purple Cow and Alpha Blue are some of the genetics used in the creation of Alpha Cow. THC averages 18 to 24% with this strain. The flavor profile is described as a combination of blackberries and blueberries with a creamy sweet finish. The buds have a triangle shape and are covered in orange hairs. Consumers report the buzz as often being an incredibly happy, creative, and focused one. They say it helps melt away the symptoms of depression, anxiety, stress, chronic pain, arthritis, and more.
FAQ
How much THC is in Alpha Cow strain?
Answer: This strain contains about 22% THC on average.