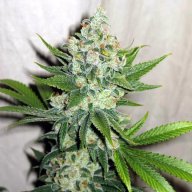 Usage & Effects
Appalachia
Time of use
AFTERNOON
Appalachia
Typical Effects
FOCUSED
RELAXED
CREATIVE
Appalachia
Common Usage
DEPRESSED
MIGRAINES
NAUSEA
Appalachia is a 50/50 hybrid offering consumers both ends of the spectrum of Indica and Sativa cannabis. This strain has an impressive THC percentage averaging between 16% and 21%. Appalachia was created crossing Tres Dawg, Afghani, and Green Crack. The buds are fluffy and bright green in appearance covered by orange hairs and a diamond-like blanket of trichomes. The flavor is described as being very sweet with a skunky aroma and citrus-like finish. Many people report the strain being great at fighting off the symptoms of depression, migraines, nausea, anxiety, stress, and more. The buzz is a very focused one that leaves many consumers feeling creative and relaxed.
FAQ
How much THC is in Appalachia strain?
Answer: This strain contains about 21% THC on average.