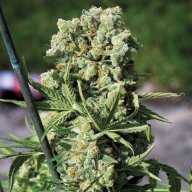 Usage & Effects
Apple Jack
Time of use
AFTERNOON
Apple Jack
Typical Effects
FOCUSED
RELAXED
SLEEPY
Apple Jack
Common Usage
DEPRESSED
PAIN
NAUSEA
Apple Jack is a hybrid variety of cannabis that has equal amounts of Indica and Sativa in it. This strain tested at an impressive 20% THC or higher. It is said that White Widow was crossed with Jack Herer to produce Apple Jack. The aroma from this strain is a connoisseur's favorite with hints of sugar, pepper, and apples. It finishes off with a very pungent earthy smell. The buds are golden and green with brilliant red hues. They are wrapped in a frosty coating of trichomes. They are very sticky and resinous to the touch making this an excellent strain for extracts, tinctures, or edibles. The buzz is described as a very relaxing one that will leave you focused and even sleepy feeling. Many people report this being a great strain to fight off the symptoms of pain, depression, anxiety, nausea, and more. Make sure you have plenty of hydration handy as this strain is known to cause cottonmouth.
FAQ
How much THC is in Apple Jack strain?
Answer: This strain contains about 20% THC on average.