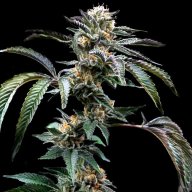 Apricot Jelly
Hybrid content
Usage & Effects
Apricot Jelly
Time of use
AFTERNOON
Apricot Jelly
Typical Effects
FOCUSED
HUNGRY
SOCIAL
Apricot Jelly
Common Usage
DEPRESSED
ANXIETY
MIGRAINES
Apricot Jelly is a mysterious strain that little is known about. It is rumored it was created by crossing Jelly Breath BX1 and Irene Apricot together. Those who have tried it described the buzz as intensely focused, leaving you social feeling and hungry. Apricot Jelly is reported to be a great strain for fighting off anxiety, depression, stress, and migraines. The buds are golden yellow with a green tint wholly covered in a blanket of sparkly trichomes dripping with resin from every pore. THC is reportedly potent in this one even though there are very few if any lab reports on this strain. If you get a chance to try Apricot Jelly, be sure you do because as they say the proof is in the pudding or, in this case, the jelly.
FAQ
How much THC is in Apricot Jelly strain?
Answer: This strain contains about 0% THC on average.