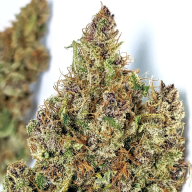 Astral Works
Hybrid content
Usage & Effects
Astral Works
Time of use
AFTERNOON
Astral Works
Typical Effects
FOCUSED
RELAXED
SOCIAL
Astral Works
Common Usage
DEPRESSED
INSOMNIA
MIGRAINES
Astral Works is a 50/50 hybrid cannabis strain. This strain offers consumers both Indica and Sativa in one cannabis strain. It also provides them impressive levels of THC and CBD together. On average, the strain contains 11% THC and 7% CBD on average. The buds are bright green and produce a fruity aroma. The taste is described as very sweet and tangy. Many consumers report this being a great strain to fight off the symptoms of migraines, depression, stress, anxiety, and insomnia. The buzz is described as being very relaxing, leaving many consumers feeling focused and social.
FAQ
How much THC is in Astral Works strain?
Answer: This strain contains about 11% THC on average.