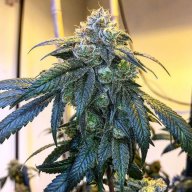 Banana Cream OG
THC Content
Banana Cream OG
CBD Content
Banana Cream OG
Hybrid content
Usage & Effects
Banana Cream OG
Time of use
AFTERNOON
Banana Cream OG
Typical Effects
FOCUSED
RELAXED
SOCIAL
Banana Cream OG
Common Usage
DEPRESSED
A LOSS OF APPETITE
MIGRAINES
Banana Cream OG is a 50/50 hybrid cannabis strain providing consumers a little bit of Indica and a little bit of Sativa in equal amounts. This heavy-hitting hybrid is no joke folks packing a potent wallop of THC averaging 30%. This heavy-hitting strain was created crossing legendary genetics like Banana OG, Blue Dream, and Ocean Beach OG. The buds are a soft green color with rusty orange pistols. There is thick coating of brilliant trichomes sparkling over these resinous buds. The flavor is described as fruity and sweet with an earthy finish. The aroma has a slight herbal smell with hints of sweet cream. The buzz is described as being a very relaxing one that leaves most people feeling focused and social. It is said to be a great strain to fight off the symptoms of depression, migraine headaches, as well as help improve your appetite. If you decide to sesh with some Banana Cream OG, make sure you have snacks and hydration on hand because you're going to need them.
FAQ
How much THC is in Banana Cream OG strain?
Answer: This strain contains about 30% THC on average.