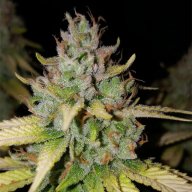 Usage & Effects
Bandana
Time of use
EVENING
Bandana
Typical Effects
RELAXED
HUNGRY
SOCIAL
Bandana
Common Usage
DEPRESSED
MIGRAINES
PAIN
Bandana is a 70% Sativa dominant cannabis strain that encompasses a little help from CBD. Bandana was created using Snow Dawg and 707 Headband. It produces an average THC level around 15% and also boasts about 4% CBD on average. The flavor profile is described as having hints of citrus and coffee with a very banana-like aroma. The buds are a mint green color with coffee toned hairs. Many people describe the buzz as leaving them very relaxed yet social and hungry. It said to be a great strain to fight off the symptoms of migraine headaches, depression, chronic pain, and it's supposed to help knock insomnia out of the ballpark.
FAQ
How much THC is in Bandana strain?
Answer: This strain contains about 15% THC on average.