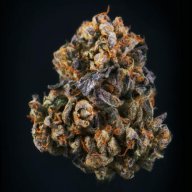 Usage & Effects
Berry Noir
Time of use
EVENING
Berry Noir
Typical Effects
RELAXED
SLEEPY
HUNGRY
Berry Noir
Common Usage
DEPRESSED
A LOSS OF APPETITE
ARTHRITIS
Berry Noir is a 50/50 hybrid variety of cannabis with equal amounts of sweet Sativa and irresistible Indica. This beautiful hybrid cannabis strain produces impressive THC levels averaging between 18 to 22%. It was created crossing the legendary Girl Scout Cookies and Platinum OG with BlackBerry. The buds that Berry Noir produces offer a fruity flavor with hints of citrus and licorice. The smell of the smoke is said to be very earthy with hints of berry. The bright green buds are almost neon in color and have burgundy-colored hairs blanketed by sticky icky resin and a bling bling coating of diamond-like trichomes. Many consumers report the buzz to be a very relaxing one that leaves them with a case of the munchies and very sleepy feeling. This is a great strain to help increase your appetite as well as fight off the symptoms of stress, depression, pain, arthritis, PTSD, ADHD, and insomnia.
FAQ
How much THC is in Berry Noir strain?
Answer: This strain contains about 20% THC on average.