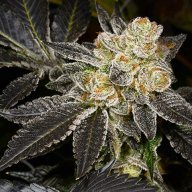 Usage & Effects
Biohazard
Time of use
EVENING
Biohazard
Typical Effects
RELAXED
SOCIAL
HAPPY
Biohazard
Common Usage
DEPRESSED
ANXIETY
ARTHRITIS
Biohazard is a unique hybrid cannabis strain that utilized legendary genetics such as Do-Si-Dos, and Chemdawg 91. THC averages between 20 to 30% in this fire! The buds are olive green with intense colors of dark purple throughout them. They are incredibly resinous and very sticky. You'll find an extreme blanket of sparkly trichomes and an abundance of amber-colored hairs on these beautiful buds. This sweet strain will make love to your mouth, having flavors of cookies and a diesel-like finish. Many consumers report the strain being great to fight off arthritis and the symptoms of depression, stress, anxiety, PTSD, and more. The buzz is described as a very relaxing and happy one that leaves many people feeling social and chattery.
FAQ
How much THC is in Biohazard strain?
Answer: This strain contains about 0% THC on average.