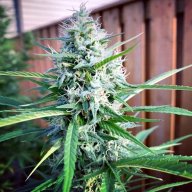 Usage & Effects
Birds Eye
Time of use
AFTERNOON
Birds Eye
Typical Effects
FOCUSED
RELAXED
SEDATED
Birds Eye
Common Usage
DEPRESSED
ANXIETY
MIGRAINES
Birds Eye is a 50/50 hybrid cannabis strain that has everything you could ever want. It provides equal amounts of Indica and Sativa with impressive THC levels averaging between 16 to 25%. This lovely cannabis strain has genetics from legends such as Northern lights and Jack Herer. The buds are dark forest green in color wrapped in a sparkly glittery blanket of beautiful trichomes and brilliant orange hairs. They produce a flavor that has hints of herbs and pepper with a sweet finish. Many people describe the aroma as having hints of citrus and pine. The buzz is supposed to be a very relaxing and focused one that will leave you feeling sedated and possibly couch-locked. Many consumers say this is a great strain to fight off anxiety, depression, stress, migraines, and more.
FAQ
How much THC is in Birds Eye strain?
Answer: This strain contains about 25% THC on average.