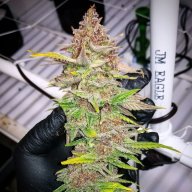 Black Cherry Pie
THC Content
Black Cherry Pie
CBD Content
Black Cherry Pie
Hybrid content
Usage & Effects
Black Cherry Pie
Time of use
AFTERNOON
Black Cherry Pie
Typical Effects
FOCUSED
RELAXED
SOCIAL
Black Cherry Pie
Common Usage
DEPRESSED
MIGRAINES
PAIN
Black Cherry Pie is a 50/50 hybrid cannabis strain containing equal amounts of Indica and Sativa. It was created by crossing beautiful genetics from Blackberry Kush along with Cherry Pie. The end result produces beautiful THC levels averaging between 18 and 25%. The buds are equally beautiful, having an olive green color with hues of purple and blue throughout them. They are blanketed in trichomes and have hairs that range from Amber in color to yellowish. The flavor is described as sour and fruity with a floral aroma. Many people report this being a great strain to help fight off migraine headaches, chronic pain, as well as the symptoms of depression, stress, anxiety, and more. The buzz is a very focused and relaxing one that leaves many people feeling very social.
FAQ
How much THC is in Black Cherry Pie strain?
Answer: This strain contains about 26% THC on average.