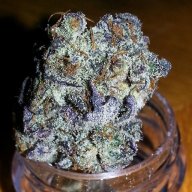 Blackberry Trainwreck
THC Content
Blackberry Trainwreck
CBD Content
Blackberry Trainwreck
Hybrid content
Usage & Effects
Blackberry Trainwreck
Time of use
AFTERNOON
Blackberry Trainwreck
Typical Effects
RELAXED
SLEEPY
CREATIVE
Blackberry Trainwreck
Common Usage
DEPRESSED
INSOMNIA
PAIN
Blackberry Trainwreck is a 50/50 hybrid cannabis strain offering consumers equal amounts of both Indica and Sativa. This beautiful hybrid has an average THC level of 20% or more. It was created by crossing Blackberry Kush with the legendary Trainwreck. The buds are dark forest green in color with an abundance of red hairs and a dense coverage of sparkly resinous trichomes. The flavor profile is sweet and spicy with a skunky finish. The buzz is a very relaxing one that leaves people feeling creative and sleepy. This strain is said to be great at helping with insomnia as well as the symptoms of stress, depression, anxiety, chronic pain, arthritis, and more.
FAQ
How much THC is in Blackberry Trainwreck strain?
Answer: This strain contains about 20% THC on average.