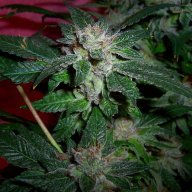 Bubba Kush (Pre-98)
THC Content
Bubba Kush (Pre-98)
CBD Content
Bubba Kush (Pre-98)
Indica content
Usage & Effects
Bubba Kush (Pre-98)
Time of use
EVENING
Bubba Kush (Pre-98)
Typical Effects
RELAXED
DRY EYES
COTTON MOUTH
Bubba Kush (Pre-98)
Common Usage
A LOSS OF APPETITE
ANXIETY
INSOMNIA
Bubba Kush is an 80% Indica dominant cannabis strain with heavy-hitting levels of THC, averaging between 16 to 23% or higher. Rumor has It Bubba Kush was created using lineage from OG Kush combined with Northern Lights. The buds are dark green in color and commonly have shades of purple and blue through them. The smell they put off has hints of cocoa and coffee. The smell is carried over to the flavor having hints of cocoa and coffee but follows up with an earthy skunky finish. A lot of people say this strain helps them improve their appetite as well as fight off the symptoms of anxiety, PTSD, ADHD, depression, stress, insomnia, and more. The buzz is described as a very relaxing one that leads to sleep. A common side effect is cottonmouth, and dry eyes, so make sure you have plenty of hydration close by.
FAQ
How much THC is in Bubba Kush (Pre-98) strain?
Answer: This strain contains about 28% THC on average.