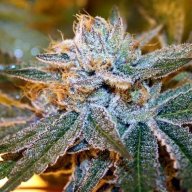 Bubble Bomb
Indica content
Usage & Effects
Bubble Bomb
Time of use
EVENING
Bubble Bomb
Typical Effects
RELAXED
SOCIAL
HAPPY
Bubble Bomb
Common Usage
DEPRESSED
A LOSS OF APPETITE
ANXIETY
Bubble Bomb is a 70% Indica dominant cannabis strain. This hybrid variety of cannabis produces beautiful levels of THC that are the bomb coming in between 18 to 22%. The nugs are dark green in color and have orange and sometimes yellow hairs blanketed in a fresh diamond-like coating of trichomes. The flavor is described as sweet, having hints of lemon and bubblegum. Consumers say this strain will help you work up an appetite as well as fight off the symptoms of depression, anxiety, stress, arthritis, and more. The buzz is described as a significantly happy and relaxing one that leaves many people feeling extremely social.
FAQ
How much THC is in Bubble Bomb strain?
Answer: This strain contains about 20% THC on average.