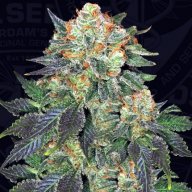 Usage & Effects
Bubblegum
Time of use
EVENING
Bubblegum
Typical Effects
RELAXED
SLEEPY
COTTON MOUTH
Bubblegum
Common Usage
DEPRESSED
ANXIETY
INSOMNIA
Bubblegum is a 60% Indica dominant cannabis strain. This Indica hybrid produces impressive levels of THC, averaging between 18 to 22% or higher! The buds are bright green to forest green in color with red and orange hairs all over them. They have a lush coating of gorgeous trichomes that make them glisten. The flavor is described as sweet and candy-like. Consumers say this strain is excellent at helping them sleep. It's also supposed to be great at fighting the symptoms of depression, stress, anxiety, loss of appetite, nausea, chronic pain, arthritis, and more. The buzz is described as a very relaxing and sleepy one that definitely causes cottonmouth.
FAQ
How much THC is in Bubblegum strain?
Answer: This strain contains about 19% THC on average.