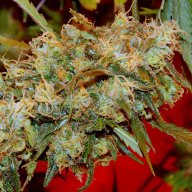 Usage & Effects
Cambodian
Time of use
AFTERNOON
Cambodian
Typical Effects
FOCUSED
RELAXED
CREATIVE
Cambodian
Common Usage
DEPRESSED
ANXIETY
MIGRAINES
Cambodian is a 100% sativa dominant landrace. THC average is somewhere between 15 to 25% or higher with this cannabis strain. The buds are forest green with brown hairs. They are covered with an abundance thick sticky resinous trichomes. The flavor profile is earthy with slight hints of chemical and a floral finish. Many different consumers report this strain helping them fight off the symptoms of migraine headaches, chronic pain, stress, depression, anxiety, arthritis, nausea, loss of appetite, and much more. The buzz is described as being a very focused, relaxing, and creative feeling one.
FAQ
How much THC is in Cambodian strain?
Answer: This strain contains about 26% THC on average.