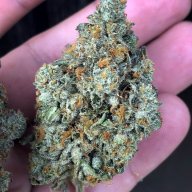 Usage & Effects
Cat Piss
Time of use
MORNING
Cat Piss
Typical Effects
DRY EYES
COTTON MOUTH
CREATIVE
Cat Piss
Common Usage
DEPRESSED
A LOSS OF APPETITE
ANXIETY
Cat Piss is a 75% Sativa dominant cannabis strain. This spunky Sativa has an average THC level of around 20% or more. The buds range from olive green to forest green in color with brilliant orange and red hairs. They have a frosty coating of sticky trichomes, making them very resinous to the touch. The buzz is described as being a very spunky and creative feeling, one that comes with the common side effects of cottonmouth and dry eyes. Many consumers say this strain helps improve their appetite as well as fight the symptoms of depression, stress, anxiety, PTSD, and more.
FAQ
How much THC is in Cat Piss strain?
Answer: This strain contains about 20% THC on average.