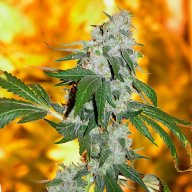 Usage & Effects
Chemdog D
Time of use
AFTERNOON
Chemdog D
Typical Effects
RELAXED
DRY EYES
COTTON MOUTH
Chemdog D
Common Usage
NAUSEA
Chemdawg D is it 55% hybrid cannabis strain. This legendary variety of cannabis produces THC levels averaging between 22 to 25% or higher. It is said to come from a Colorado strain named Doug Bud and bloomed from the Grateful Dead tour. The buds are neon green in color with white hairs and an abundance of chunky diamond like trichomes. The flavor is described as sweet and floral with hints of diesel and pine. Many consumers say this strain helps control the symptoms of arthritis, chronic pain, stress, depression, anxiety, and more. The buzz is described as a very relaxing one that is known to come with the very common side effects of cotton mouth and dry eyes.
FAQ
How much THC is in Chemdog D strain?
Answer: This strain contains about 22% THC on average.