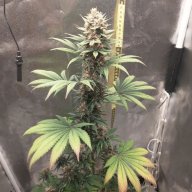 Critical Kush
Indica content
Usage & Effects
Critical Kush
Time of use
EVENING
Critical Kush
Typical Effects
RELAXED
PARANOIA
SEDATED
Critical Kush
Common Usage
ANXIETY
INSOMNIA
MIGRAINES
Critical Kush is a 100% Indica dominant cannabis strain. This heavy-hitting Indica comes in with knockout levels of THC, averaging around 30% or higher! This strain was created by crossing Critical Mass with an OG Kush. This knockout combination produces beautiful forest green buds with fiery red and orange hairs. These nugs are wrapped with intense coatings of frosty sparkly trichomes. The flavor profile is described as being very sweet with hints of citrus and floral followed up with a skunky dank finish. A lot of consumers say this strain is great at helping control the symptoms of insomnia and to get rid of migraine headaches. It is also supposed to be great at managing anxiety, stress, and PTSD. The buzz is referred to as a very relaxing one that leaves most people feeling very sedated.
FAQ
How much THC is in Critical Kush strain?
Answer: This strain contains about 29% THC on average.