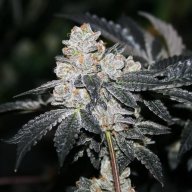 Girl Scout Cookies
THC Content
Girl Scout Cookies
CBD Content
Girl Scout Cookies
Indica content
Usage & Effects
Girl Scout Cookies
Time of use
EVENING
Girl Scout Cookies
Typical Effects
RELAXED
HAPPY
CREATIVE
Girl Scout Cookies
Common Usage
DEPRESSED
A LOSS OF APPETITE
INSOMNIA
Girl Scout Cookies is a 60% Indica dominant cannabis strain. This extremely popular strain of cannabis produces extremely high levels of THC averaging 22 to 28% or more! It is said to be a mix of Durban Poison and OG Kush. The nugs are bright green in color with fiery orange hairs and an abundance of sticky resinous trichomes. Upon breaking the buds open you will commonly find flashes of purple and blue. The flavor profile is sweet and earthy having everything you would expect from this legendary strain. Consumers report this strain helping them fight off the symptoms of insomnia, loss of appetite, nausea, stress, depression, anxiety, PTSD, menstrual pains, arthritis, and much more. The buzz is described as a happy, relaxing, and creative feeling one.
FAQ
How much THC is in Girl Scout Cookies strain?
Answer: This strain contains about 28% THC on average.
Where can I buy Girl Scout Cookies weed strain?