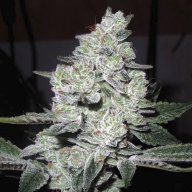 Gorilla Glue #4
THC Content
Gorilla Glue #4
CBD Content
Gorilla Glue #4
Sativa content
Usage & Effects
Gorilla Glue #4
Time of use
EVENING
Gorilla Glue #4
Typical Effects
RELAXED
SLEEPY
COTTON MOUTH
Gorilla Glue #4
Common Usage
DEPRESSED
ANXIETY
INSOMNIA
Gorilla Glue #4 is a 65% Sativa dominant cannabis strain. The sweet Sativa will knock your socks off with heavy-hitting levels of THC, averaging 32% or higher. Some of the lineage that went into creating this exotic strain of cannabis are Chocolate Diesel, Sour Dubb, Sour Diesel, and Chem's Sister. The buds are bright green in color with fiery red hairs. They are wrapped in an abundance of sticky, resinous trichomes. The flavor profile is sweet and spicy, with hints of coffee and candy, followed by an earthy skunky finish. Many consumers report this strain helping them fight off the symptoms of insomnia, anxiety, stress, depression, chronic pain, menstrual cramps, arthritis, and much more. The buzz is described as a very relaxing and sleepy feeling, one that comes with the common side effect of cottonmouth.
FAQ
How much THC is in Gorilla Glue #4 strain?
Answer: This strain contains about 32% THC on average.
Where can I buy Gorilla Glue #4 weed strain?