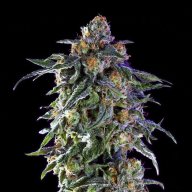 Granddaddy Purple
THC Content
Granddaddy Purple
CBD Content
Granddaddy Purple
Indica content
Usage & Effects
Granddaddy Purple
Time of use
EVENING
Granddaddy Purple
Typical Effects
RELAXED
DRY EYES
CREATIVE
Granddaddy Purple
Common Usage
DEPRESSED
ANXIETY
INSOMNIA
Granddaddy Purple is a 75% Indica dominant cannabis strain. This granddaddy of cannabis strains packs a punch with THC levels averaging between 22 to 25% or higher. It is a combination of Big Bud mixed with Purple Urkle. The nugs are a beautiful bright green to olive green color with red, orange, and white hairs. They have a generous portion of sticky, resinous trichomes covering them, making them difficult to break up without a grinder. The flavor profile is sweet and spicy, with hints of fruit followed by a skunky finish. Many consumers report this strain helping them control the symptoms of insomnia, as well as fight off depression, stress, anxiety, and more. The buzz is described as a very relaxing and creative feeling, one that comes with the common side effects of dry eyes and dry mouth.
FAQ
How much THC is in Granddaddy Purple strain?
Answer: This strain contains about 23% THC on average.
Where can I buy Granddaddy Purple weed strain?