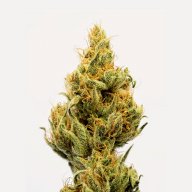 Usage & Effects
Haze
Time of use
AFTERNOON
Haze
Typical Effects
FOCUSED
PARANOIA
CREATIVE
Haze
Common Usage
DEPRESSED
A LOSS OF APPETITE
ANXIETY
Haze is an 80% Sativa dominant cannabis strain. The sweet, tasty Sativa packs a punch with heavy-hitting levels of THC, averaging 18 to 22% or higher. This staple old school strain has a unique flavor profile that tends to take people back to a different place in time. These olive green covered buds that are wrapped in beautiful orange hairs dancing across them highlighted by a shimmering coat of sparkly trichomes are highly sought-after. The flavor is earthy and skunky, with a floral finish like no other. Many different consumers report this strain helping them fight off the symptoms of depression, anxiety, stress, PTSD, chronic pain, arthritis, nausea, loss of appetite, and more. The buzz is described as being a very creative and focused one.
FAQ
How much THC is in Haze strain?
Answer: This strain contains about 27% THC on average.