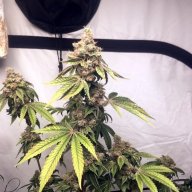 Usage & Effects
Headbanger
Time of use
MORNING
Headbanger
Typical Effects
FOCUSED
RELAXED
DRY EYES
Headbanger
Common Usage
DEPRESSED
ANXIETY
MIGRAINES
Headbanger is a 70% Sativa dominant cannabis strain. This sweet Sativa has enough THC to get the job done with levels averaging between 20 to 30% or higher! Headbanger was created by crossing Sour Diesel with Biker Kush. This rowdy pairing produces lime green colored buds with rustic orange, brown, and red hairs covering them. They have a fresh powdery snow like coverage of sticky, resinous trichomes all over them. The flavor profile is described as being earthy and hash-like with hints of fruit and a pungent finish. A lot of different people have reported the strain helping them fight off the symptoms of migraine headaches, menstrual pain, stress, depression, anxiety, nausea, loss of appetite, arthritis, chronic pain, and much more. The buzz is said to be a very relaxing and focused feeling but is also known to have a common side effect of dry eyes.
FAQ
How much THC is in Headbanger strain?
Answer: This strain contains about 28% THC on average.