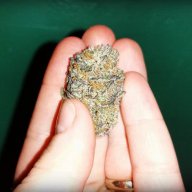 Usage & Effects
Hurricane
Time of use
MORNING
Hurricane
Typical Effects
FOCUSED
RELAXED
DRY EYES
Hurricane
Common Usage
DEPRESSED
A LOSS OF APPETITE
ANXIETY
Hurricane is a 70% sativa dominant cannabis strain. This sweet sativa has sweet levels of THC and CBD. You can expect 18% THC and 15% CBD on average from Hurricane. Hurricane was created crossing LA Confidential with Panama Punch. The buds are bright green with amber-colored hairs. They look as if they were rolled in a fresh sugary coating that is actually sticky trichomes. The flavor profile is said to be sweet and earthy with a peppery finish. A lot of different people have said this strain helped improve their appetite and fight off nausea. It is also said to be great at helping manage the symptoms of stress, depression, anxiety, PTSD, chronic pain, arthritis, menstrual cramps, and much more. The buzz is a very relaxing and focused feeling, one that is known to come with a common side effect of dry eyes.
FAQ
How much THC is in Hurricane strain?
Answer: This strain contains about 18% THC on average.