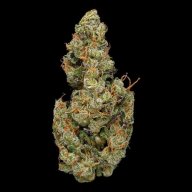 Pineapple Express
THC Content
Pineapple Express
CBD Content
Pineapple Express
Sativa content
Usage & Effects
Pineapple Express
Time of use
AFTERNOON
Pineapple Express
Typical Effects
PARANOIA
CREATIVE
ENERGETIC
Pineapple Express
Common Usage
NAUSEA
Pineapple Express is a 60% sativa dominant cannabis strain. This funky sativa is a crowd-pleaser with heavy-hitting levels of THC averaging somewhere between 22 to 28% or more. Pineapple Express is an old school cannabis strain that has been around for nearly 30 years or more. This old school legend was created crossing Hawaiian with Trainwreck. The buds are olive-colored with electrified red and orange hairs. They are wrapped in an abundance of sticky, resinous trichomes that make them very difficult to break up by hand. The flavor profile is tropical, earthy, and sweet, with hints of pineapple and pine. Many people have reported this strain of cannabis helping them control the symptoms of stress, depression, anxiety, PTSD, chronic pain, nausea, loss of appetite, and much more. The buzz is said to be a very energetic and creative feeling.
FAQ
How much THC is in Pineapple Express strain?
Answer: This strain contains about 26% THC on average.