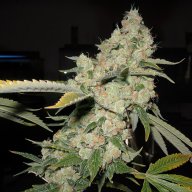 Sour Diesel
Sativa content
Usage & Effects
Sour Diesel
Time of use
MORNING
Sour Diesel
Typical Effects
FOCUSED
COTTON MOUTH
CREATIVE
Sour Diesel
Common Usage
DEPRESSED
A LOSS OF APPETITE
PAIN
Sour Diesel is an 80% sativa dominant cannabis strain. This sweet sativa really packs a punch with an average THC level of around 25% or more. This award-winning classic cannabis strain surfaced in the underground during the late 80s and '90s and has become a staple in dispensaries today. The buds are bright green in color with fiery orange and red hairs blanketed by a crushed diamond-like coat of sparkly sticky trichomes. The flavor profile is funky and gassy, with hints of skunk and a strong diesel finish. Many consumers have reported this variety of cannabis helping to control symptoms of depression, stress, chronic pain, arthritis, PTSD, nausea, loss of appetite, migraine headaches, and much more. The buzz is said to be a very focused and creative feeling, one that comes with a major case of cottonmouth.
FAQ
How much THC is in Sour Diesel strain?
Answer: This strain contains about 24% THC on average.
Where can I buy Sour Diesel weed strain?